Now a days gaming on phone is very popular. There are literally thousands of game apps that you can download and play on your iPhone or iPad. Most of the games now a days are going online which means you require an internet connection to play those games. Developers are doing this just to stop piracy of their offline games. However still there are many popular games which you can download without Wifi for iPhone and iPad. These games also have multiplayer and online mode through which you can compete with your friends or other players in the world. We are going to some of the best games without WiFi for iPhone and iPad that you must try atleast once. 
Here is the list of top games without WiFi for iPhone and iPad:
Asphalt 8: Airborne

Can KnockDown 3

Brain it On

Temple Run 2

Despicable Me: Minion Rush

Fruit Ninja

Brothers in Arms 3

Angry Birds

Subway Surfer

Hungry Shark Evolution
1. Asphalt 8 : Airborne
If you are one of those who like driving fast cars on beautiful tracks then this racing game is must for you. You will get to drive BMW, Lambhorgini, Porche etc.. cars on number of beautiful tracks. Have you ever played on Need for Speed or similar version from EA sports? If yes then you will surely love this game. Asphalt 8 provides the similar experience. You also get to customize these cars with your favorite color, nitro, tyres and much more. Combined with high quality graphics, animations and sound effects this game provides a real time experience of racing. It's one of the best games without WiFi for iPhone and iPad 2018. 
2. Can KnockDown 3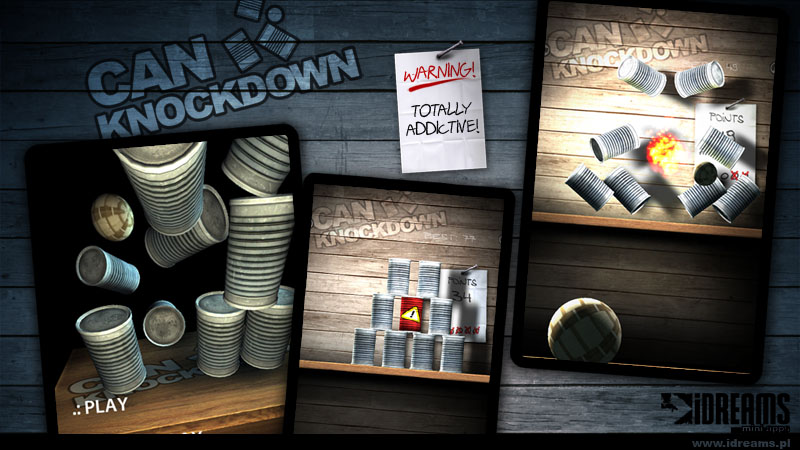 Can KnockDown 3 is another popular no wifi game among iPhone and iPad users. You are given balls and barrels in the game. The main goal inside the game is that you need to knock down all the barrels using the number of balls given. It's a puzzle game. If you love puzzles then you must download this game on your iPhone. Best part of the game is that you can play it offline anywhere. You don't need to have internet connection to play Can KnockDown 3. 
3. Brain it ON
People having even a little bit of internet in science will surely like the game because the game is based on physics. You need to solve puzzles given in the game and keep passing the levels to unlock new ones. Brain it On is a challenging game available for both iPhone and iPad. It can be played offline and considered as one of the top games without WiFi for iPhone/iPad. 
Download Brain it ON for iPhone/iPad
4. Temple Run 2
Temple run 2 is one of the most popular no wifi games for iPhone and iPad. Game has been downloaded millions of time. People are still playing this game even after many years of its release. Temple run 2 is an improved version of temple run. It's an endless running game in which you have to keep running while avoiding incoming obstacles and collecting coins and other special powers. These powers will help you during your run to boost your running and in collection of coins. If you didn't played it every then you must download this games without wifi to be played offline.
5. Despicable Me: Minion Rush
Despicable Me: Minion Rush is a very popular game due to popularity of the movie with the same name. Minions are also famous among children due to which this game has million of downloads on the app store. You have to collect bananas fast by jumping, knocking and dodging minions in this game without internet. You can also change costumes according to your choice. It's one of the simple games that you can play while you are free.
Download Despicable Me : Minions Rush
6. Fruit Ninja
Fruit Ninja is one of my favorite no Wifi Game that I have played on my iPhone. It's also highly recommended for iPad as well. Graphics and sound effects in this game are too amazing. The sound effect while we cut the fruits on the screen is so real that you gonna fall in love with this game. So many fruits like apple, watermelons, strawberries, guava etc will keep coming on the screen which you have to cut by swiping your finger on the screen. Bombs also come in between. You don't have to cut the bombs. If you cut it then you will lose your life. There are limited number of life given in which you have to score highest points. 
Download Fruit Ninja for iPhone/ iPad
7. Brothers in Arms 3
Brothers in Arms 3 is a very good game if you like to play war games. It's an offline game which you can play anywhere. Brother in Arms 3 is totally based on world war 2. You are among an elite military force. You have to complete mission. There are total of 4 maps that you can play in. You can use your brothers who have different skills to gain advantage in the game. You also get to play in 2 mode.  One which is free for all and another one is team deathmatch. It's one of the best game without WiFi. 
Download Brothers in Arms 3 for iPhone/iPad
8. Angry Birds
Angry birds is considered one of the best games on physics. You have different kind of birds having special powers. You have to destroy pigs and their structure at a certain distance. You have to throw these birds on the pigs. As you should have knowledge of trajectory in order to destroy these pigs, it makes the game very interesting. Angry birds has many versions. Some of which involve gravitation. You will surely love playing the offline game for iPhone. 
Download Angry Birds for iPhone/iPad
9. Subway Surfer 
Subway surfer is an endless running game which is very popular across the world. The game is available for iPhone and iPad totally free. It's one of the best offline game in endless running category. You have to collect coins and special powers while you run. Your speed will continue to increase as you will continue to cover more distance. Cover the maximum distance and gain more points. Graphics and sound are totally amazing. Give it a try. 
Download Subway Surfer for iPhone/iPad
10. Hungry Shark Evolution 
Hungry shark evolution is totally free game for iOS. There are total of 12 kind of different sharks. The only aim of the game is to keep destroying anything which comes in front of you and survive as long as you can. You get to experience underwater world and see different kind of creature. You can even recruit baby sharks to hunt other animals. Overall it's one of the cool offline game that you must download and play. 
Download Hungry Shark Evolution
Hopefully you like these 10 games which are totally available for free for iPhone and iPad. We will continue to bring you some of the most famous games which you can play offline anywhere without the internet.