There are lot of free games without WiFi on app store that you can download and play anywhere. Most of the popular games are available offline as well. Popular games offer online mode as well so that you can play with your friends and other players around the world. However we are going to concentrate only on free games without internet for iPhone. You can play these games on all version of iPhone such as iPhone 5, iPhone 6, iPhone 7, iPhone 8, iPhone X, iPhone SE and other models. There are literally thousands of no wifi games available. Out of which we are going to list some of the best ones for your guys. There is a chance that you must have played few of these games. 
If you haven't played any one of the game below then you must try them atleast once. Having high quality graphics and amazing sound effects make these free games amazing. These no wifi games will keep you busy in your free time. You will surely love these games. 
Here is the list of best free games without WiFi for iPhone :
Candy Crush Saga

Sudoku

Solitaire

Unblock Me

The Room

Six Guns: Gang Showdown

Swamp Attack

Sea Battle 2

Earn to Die 2

Paper Toss
1.Candy Crush Saga
Candy crush saga is one of the insanely popular no wifi game across the world. It created record in number of downloads. It was number 1 on the app store for many days. Players went crazy playing Candy crush saga. The main goal of the game is to crush candies in limited number of chances. There were few stages where you have some other goal such as to get the fruits to the bottom of the candies. I played it for many days. Even I don't know the exact number of levels. You keep playing the game. The game get tougher and tougher. If we talk about free games without WiFi for iPhone then it must get the number 1 spot.
Download Candy Crush Saga for iPhone
2. Sudoku
Have you ever played Sudoku in a newspaper? Do you like to play it? It's the digital version. Sudoku is one of the best non wifi games that you will play. It will train your brain to analyze things properly. You have to get numbers from 1 to 9 inside the box, vertically and horizontally while making sure that no number repeats in the same line. It's a very challenging game and requires a good amount of effort to crack the puzzle. Download it right now to get started. 
3. Solitaire
Solitaire is one of those classic game of cards which people learned because of Microsoft. It's one of the free game which comes with Windows. People have played it millions of time in their offices. The digital version of the solitaire has been downloaded over 70 million times. It's quite popular with old people. If you are a fan of cards then get the digital Solitaire to play. 
4. Unblock Me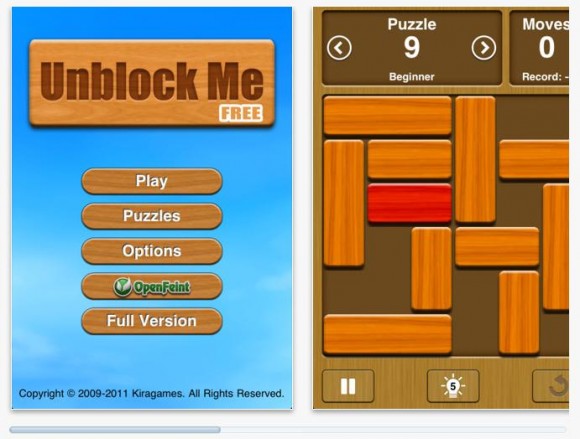 Unblock Me is yet another popular iPhone game. The game is very simple and challenging and that's what people are loving about it. There are many boxes given on the screen. There is a red box and you have to get it out. It's a classic sliding block puzzle game. There are over 16000 puzzles to solve in this game. You won't ever get bored. Get the red block to exit zone and proceed to the next level. It's one of the best puzzle without internet for iPhone. 
Download Unblock me for iPhone
5. The Room
The room is a quite popular puzzle game which was released way back but still people are carzy about it. You are given a set of boxes through which have to solve the puzzle while looking at the notes and letters given in the box. There is a story involved behind the puzzle that you will solve. You can zoom in the box, twist it and look it from any side. It's a full 3D game. There's a new version coming out very soon. If you love puzzles then you must give this free game without wifi a try. 
6. Six Guns: Gang Showdown
Six Guns is a first person shooter game about wild west. It's an excellent free RPG shooter game. The game has a total of 40 missions which you have to complete it one by one. You have to gain experience, earn gold and purchase new guns in the game to keep going ahead. The game offers a lot of features like snatching a pistol very fast, holding the barrel underneath etc. Graphics and sound system is very good to watch out for. Download this non wifi game for your iPhone.
7. Swamp Attack
The swamp attack is a game about a fat man who lives along in a swamp. The locals went crazy as they were hit by a virus. All habitants started dying and started turning into zombies. Now you have to fight with crazy crocodiles, wild turtles, raccoons with the help of a chainsaw. You also have a shotgun in the beginning to save yourself from wild animals. You can also unlock certain special guns and weapons to save yourself. Don't underestimate the game because it gets tougher as move up the level. You get to fight with crowd of zombies in the end. Scary? isn't it? 
Download Swamp Attack for iPhone
8. Sea Battle 2
Sea battle 2 is the new version of an old game Sea battle. You have to place your ships carefully and destroy enemy ships in the war. You need a proper strategy to destroy the enemy ships. You get to attack the ship by specifying the coordinates as soon as the game starts. Winning more battles will get you more points and high rating. Game is available for free with in app purchases. You should try this free game without wifi for once. 
Download Sea Battle 2 for iPhone
9. Earn to Die 2
Earn to Die 2 is a 2 dimensional racing game on the devastated earth. You have to go as far as possible while avoiding all kinds of obstacles such as destroyed building, dead animals etc. You should also keep in mind that gasoline is limited resource on the earth. You need to keep improving your car to get a good mileage. More than a dozen cars are available which you upgrade through coins earned. It's a good game just like hill climb racing. It's a good offline game that you must try. 
Download Earn to Die 2 for iOS
10. Paper Toss
Paper Toss is a very simple free game without WiFi. You have to through papers in the dustbin. You have multiple location to choose from. You can choose between your office, airport, home or some other public places. Your score will be saved to compare it from international players. The screen creates the perfect location to through the papers into the trash. All the places have a unique soundtrack. 
Download Paper Toss for iPhone
The only problem with free games is that you will get so many ads in between. It's very annoying if too many pop up ads appear on the screen during play. If the game is available for a less price then you must purchase it instead of seeing an ad every now and then. Hopefully you like this list of offline games for iPhone.